Shift Lever Pivot Replacment Instructions
(1995 & newer)
These instructional pages give you step-by-step instructions for the removal and replacement of the shift lever (transmission control) pivot assembly located in the column. These cast assemblies fail regularly. Often the cable for the shift interlock mechanism will jam or bend preventing the key from being rotated or removed...or the cast housing itself will crack preventing the driver from shifting the transmission. These instructions will show you how to gain access and remove the assembly from the column.
Estimated Time Required:
1.0 - 1.5 hrs.
Tools Needed:
20 torx driver, #4 inverted torx socket, ratchet, short extension, small probe, phillips screwdriver, 7mm socket, 30 torx socket, flat blade screwdriver.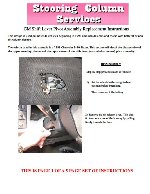 Our Part # GMPivot Instructions
Fits Makes: GM, Buick, Cadillac, Chevrolet, GMC, Oldsmobile, Pontiac
Fits Years: 1995-up
$8.95
For parts orders, click "Order it Now" to view shipping options, pricing & speeds BEFORE you pay
Back to Top