Testimonials
The following testimonials are quotes from customers who have contacted or used Steering Column Services. We provide personal service through direct email as well as limited phone support to our customers and potential customers. We have also volunteered on the "All Experts" and "Fix-Ya" websites.
If you have a question regarding a steering column or repair, please contact us.
Actual comments from people we have helped with their steering column repairs!
1996 Ford F-350
08-29-2022
Thanks for your service. 96 F350 - Amazing difference with your new column. Great shipping, package arrived in perfect condition. Very knowledgeable staff, attention to detail, part was shipped same day it was ordered. A satisfied customer. I will recommend you to everyone I know.

Tom F
Linden, TX


---
GM Non-Tilt Customer Column Rebuild
08-24-2022
Peter,
All I have to say is WOW! Thank you for everything. Your knowledge is amazing. You had everything in stock and know everything I needed to rebuild my column. Emails, texts and phone calls you are right there to assist. The world needs more businesses like yours.

Marcus L
Englewood, CO


---
1985 K10 Customer Rebuild
07-18-2022
Peter,
Just wanted to take a few minutes to thank you for your excellent advice and help on my 1985 K10 column rebuild. The parts and website you offer is second to none.
Thanks again,

Bob B
New Kensington, PA
P.S. I sent you a donation for the use of the free installation support on the website.


---
2000 FFV Posatal Truck (Ford)
06-03-2022
Peter,
Just wanted to say thank you 1 more time. Your (recipe) for clocking the IGN gear and actuator on a 2000-2001 FFV postal truck is perfect. In 5 minutes this morning, I was able to do what I tried the entire day on Thursday. I must have tried 300 combinations, to no avail. So, your wisdom is helping get some packages to grandma.
Thanks
Ray B., USA


---
69 Chevrolet Chevelle
10-19-2021
Peter,
A few years ago, I worked with you to get the correct parts to rebuild my stock GM tilt steering column on a 1969 Chevelle. Everything worked out perfectly. Thank you very much for the tips on a great steering wheel source. I appreciate the help.
I was so happy to find you and your business with such great expertise. It's nice to communicate with you again. It was awesome working with you on getting my Chevelle column fixed up.

Have a great weekend!
Brad R.


---
93 Chevrolet Astro Van Repair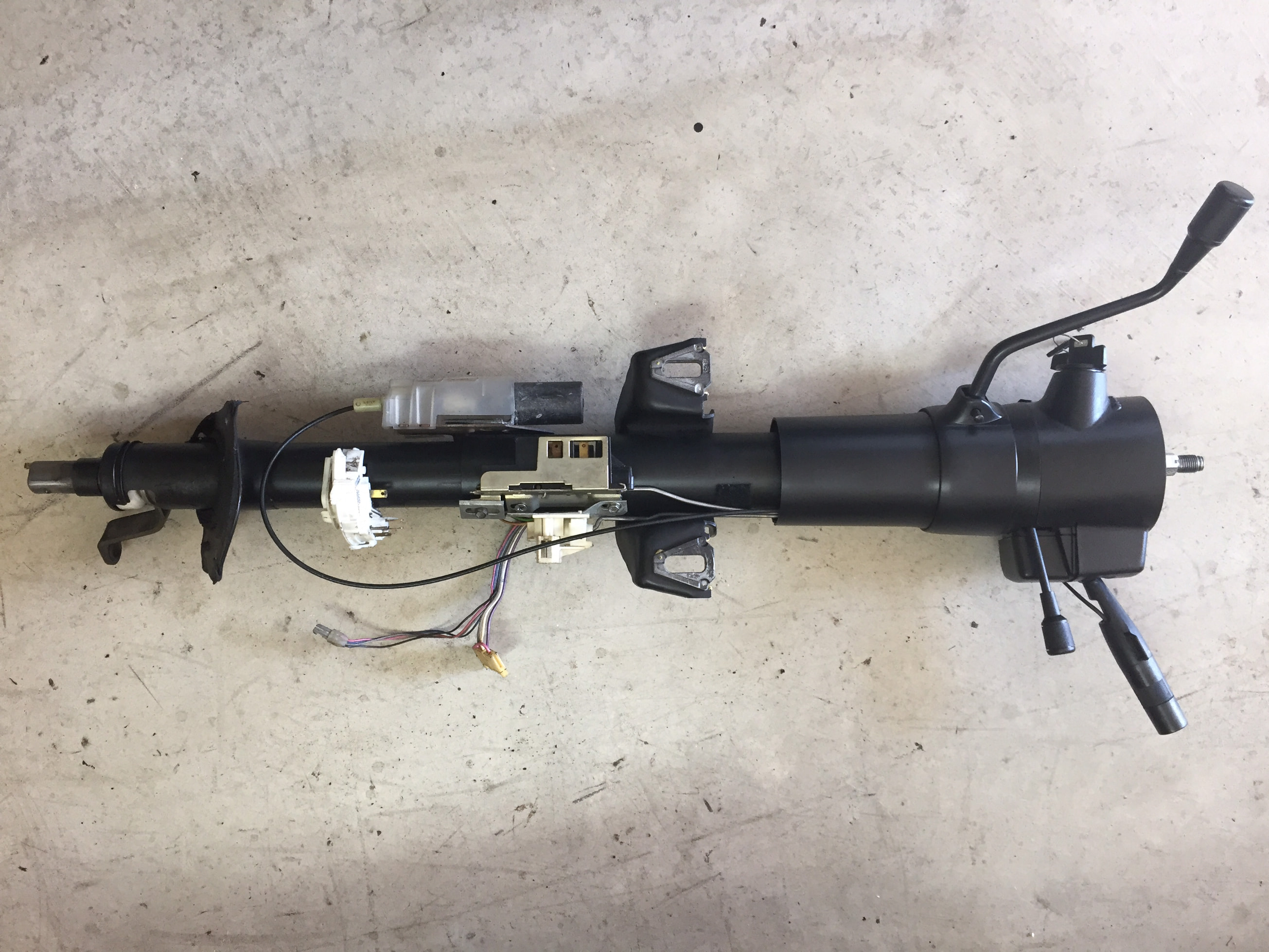 08-23-2021
Doug,
Just a gentle follow up to express an immense gratitude for the phenomenal service provided. I'm just amazed with the level of professionalism, the quick turn-around, the incredible craftmanship and obvious attention to detail.
After searching long and hard I was unable to find a local solution. I was so close to selling my Astro Van. So glad that I stumbled upon your website. Now my dad's weekend family hauler can live to die another day, but NOT today.
I have spoken very highly of my experience to others and have already recommended your services to several parties. I navigated through the website searching for a way to leave a review, but I was unable to find one.

Best Regards!
Lionel A.
Orlando, FL

---
99 F250 XLT Tilt Column Replacement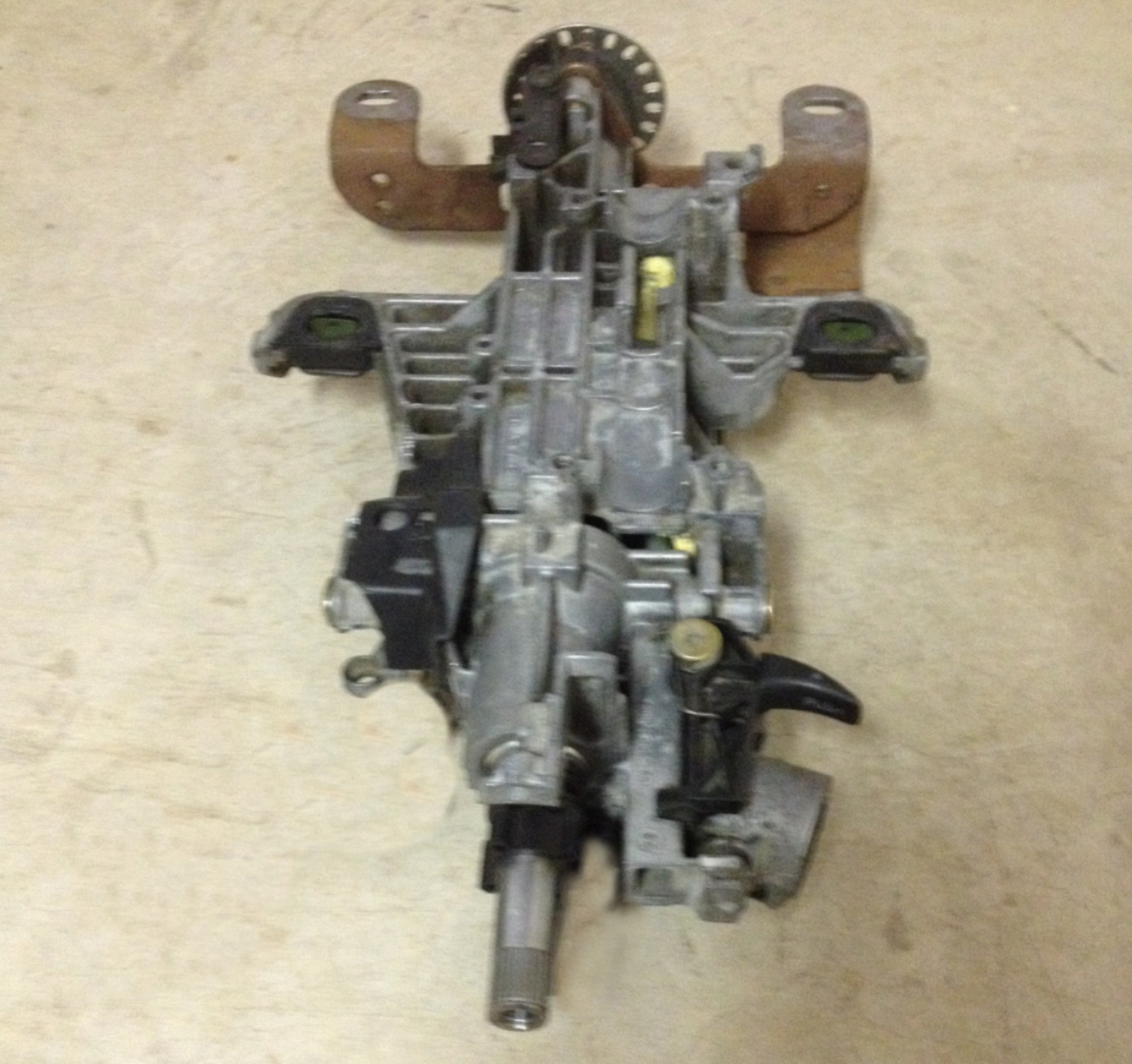 06-23-2021
Doug,
The steering column arrived today, has been installed, and works perfectly. Thanks for a quality product, fair price, and fast shipping.
Hope you and your families (the whole staff) stay healthy and have a great summer. I will definitely look through the rest of your inventory to see what else I may need, or just want. And I will definitely recommend you to any others I encounter with similar needs.
Tom J.
Evans, GA

---
80-91 Ford Tilt Column Rebuild
06-06-2021
Doug,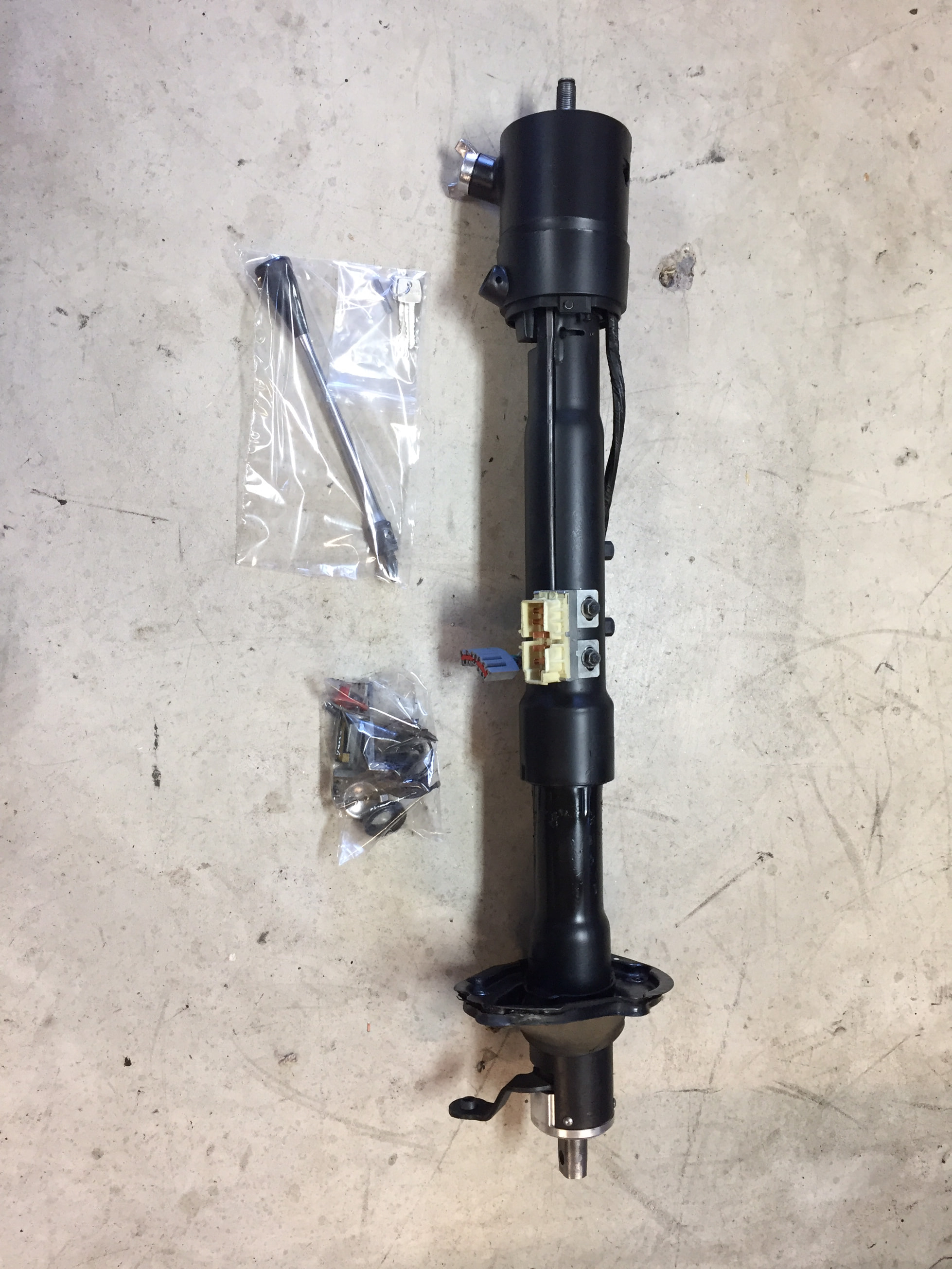 You are amazing! As I mentioned I am so thankful of the wonderful service you provide for us that love these old vehicles. It means a lot.
Thanks again and I look forward to many more happy miles!

Kevin D.
Tucson, AZ

---
1988 Pontiac Firebird Column Rebuild
06-02-2021
Doug,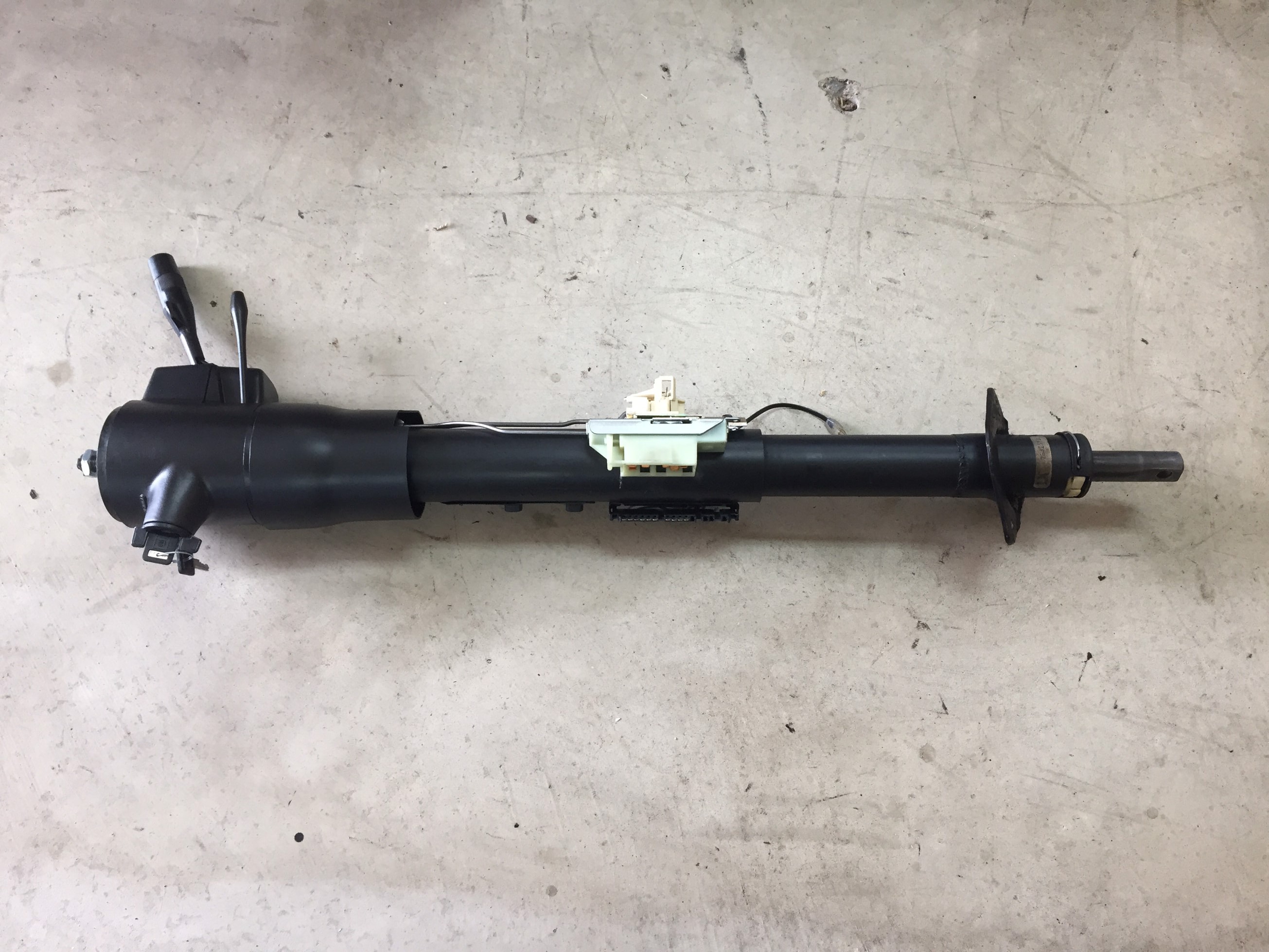 That looks fantastic! I'm very excited to put it back in and try it out. Thanks so much for your work on this. Let me know if there's anywhere I can leave reviews to help spread the word about your business.

Thank you,
Tjaden H
Coon Rapids, MN
---
Lower GM Bearing Kit
05-16-2021
Good evening,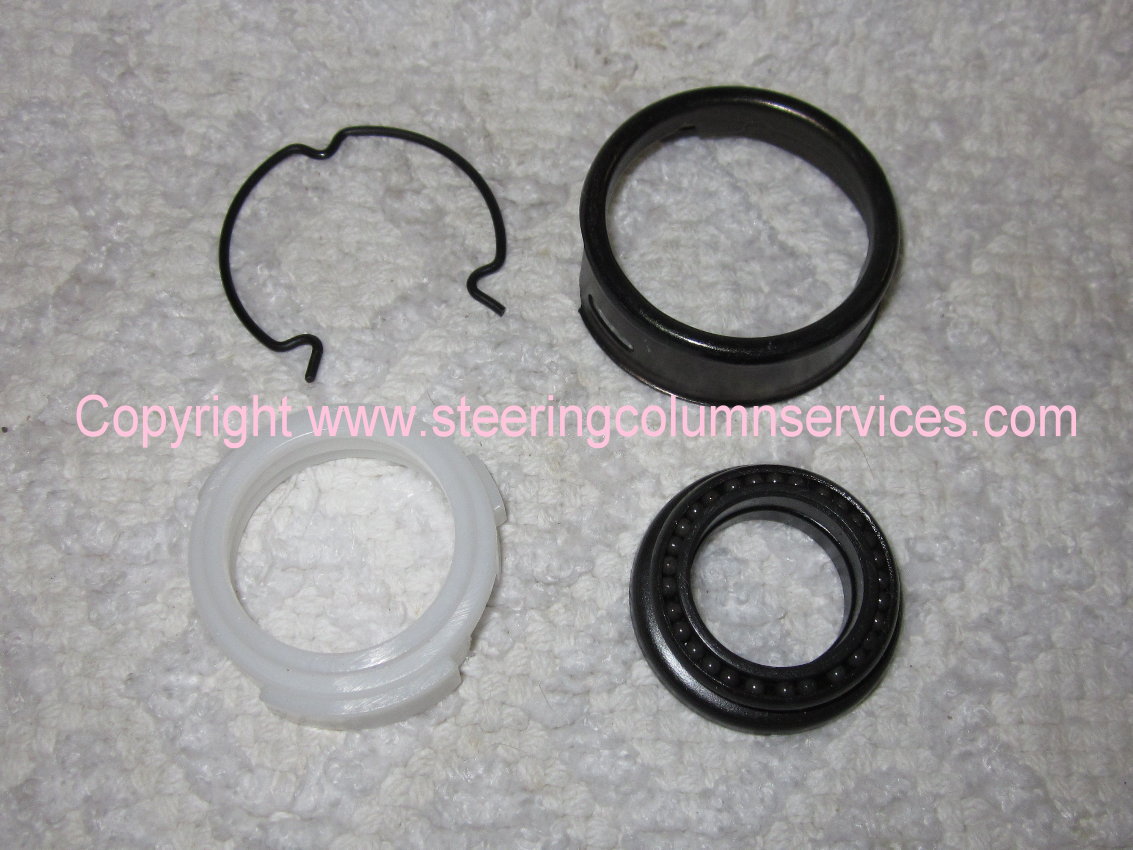 I am looking to purchase a bearing upgrade kit (your part #Brgkit60) and I was told to speak with a man named Doug regarding the quality of the bearing. I have purchased this item from several other retailers and they have all come out defective as the bearing moves with poor fitment and has lots of play with its retainer, apparently it happens when it's cooled off to quickly in the production process.

I heard that you folks are the ones to go to when purchasing this great upgrade so I can avoid poor quality products and results. I just wanted to ensure that you folks would take care of my concern before I placed the order? Would really hate to yet again encounter this bearing that just turns in place when it should have a tight fit.

Hope to hear from you guys soon, thank you and god bless.

Company Response:
Hello Alejandro

Thank you for visiting and contacting us through http://www.steeringcolumnservices.com. We provide steering column parts, instructions and repair services worldwide. That is a common problem with a LOT of the manufacturers. We too get them from time to time with loose fitment.

We do have and sell the tight ones…we have about a dozen in stock right now. You will receive a tight fitting bearing when you purchase the kit from us.
Thanks for your email and business.

Doug

Customer Reply:
You're the man Doug!
Seriously I appreciate the timely and professional response. It lets a person purchase with confidence. I just placed an order and I am very excited to finally get what I am looking for. Many thanks may God bless you and yours.

Alejandro C.
Hawthorne, CA.
---
1997 Chevrolet Monte Carlo Broken Ignition Actuator Rack
03-29-2021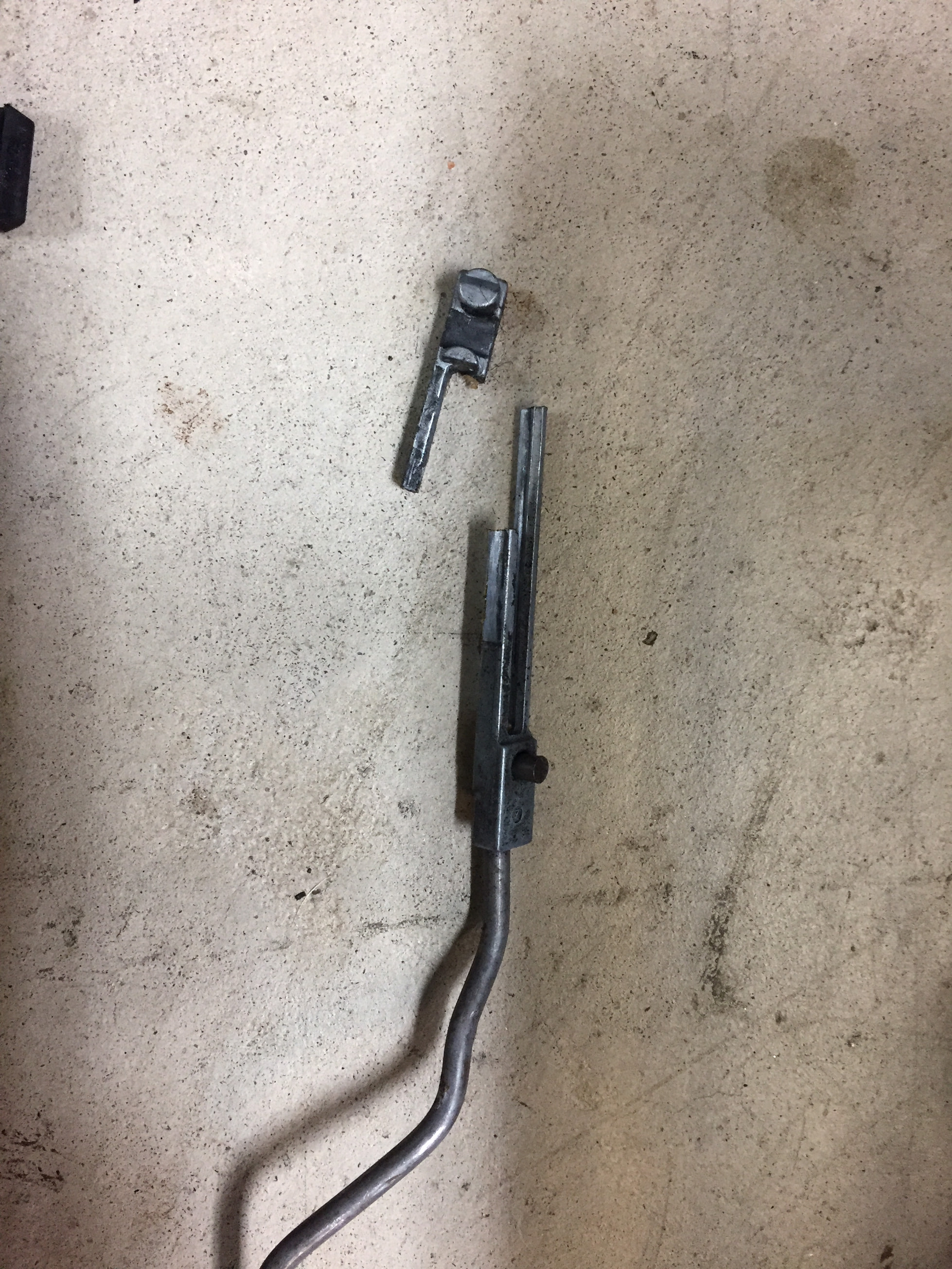 Hi Doug, it's Kevin. I gotta tell you I am so impressed with you. Not only the knowledge but the speed that you were able to do this. I just needed to tell you thanks again for the help.

Kevin M.
Kaysville, UT
---
1992 Chevrolet C1500 454SS Column Rebuild
03-08-2021
Just wanted to say thank you. I finished putting my truck together and its perfect.
You guys rock!

Mark F.
Vallejo, CA.
---
1981 Ford F-250 Column Rebuild
01-18-2021
Good morning!
We just wanted to thank you for your quick turnaround & excellent communication!
The steering column is in & the truck runs great!!!

Deanna R.
Prescott Vally AZ.
---
1969 Pont GTO Overhaul
01-14-2021
Steering Column Services is one of the most responsive and customer oriented suppliers that I work with. I'm impressed by their excellent communication and attention to detail, as well as their flexibility in addressing the needs of each specific project.
Thank you for a job extremely well done!

Ron C., Phoenix AZ
(Auto Restoration Shop)
---
GM Parts Purchase
01-05-2021
Hello,
I wanted to provide some feedback on my recent purchase of a set of (4) tilt housing support bolts:
The order was shipped and delivered in a timely manner. Thank you.
However, the bolts I received are clearly used, not much better in fact than the ones I plan to replace. I didn't see anywhere in the description that these were used. They will work and function as intended but for $22.85 all in including shipping, an average $5.71/each, I am disappointed.
Just feedback. No action requested.

Company Response:
Hello Bill:
Thanks for taking the time to contact us about your recent experience.
Since you did not get what you expected, we are refunding your full purchase price. I sincerely appreciate how you handled this and respect your position.
----Refund issued to customer as a courtesy----item description ammended

Customer Reply:
Excellent customer service. I will spread the word in my car community. Thank you.

Best Regards,
Bill M., Gibsonville, N.C.
---
1995 Corvette C4 Repair-questions about steering wheel/airbag
12/09/2020
Doug,
Wooow great! Thank you so much for your fast Reply!!!! I did not expect that. Your Info really helps me alot!!!

All the Best
Mike V.
Bitburg / Germany
---
1985 GMC Tilt Rebuild
04-12-2020
Good Morning,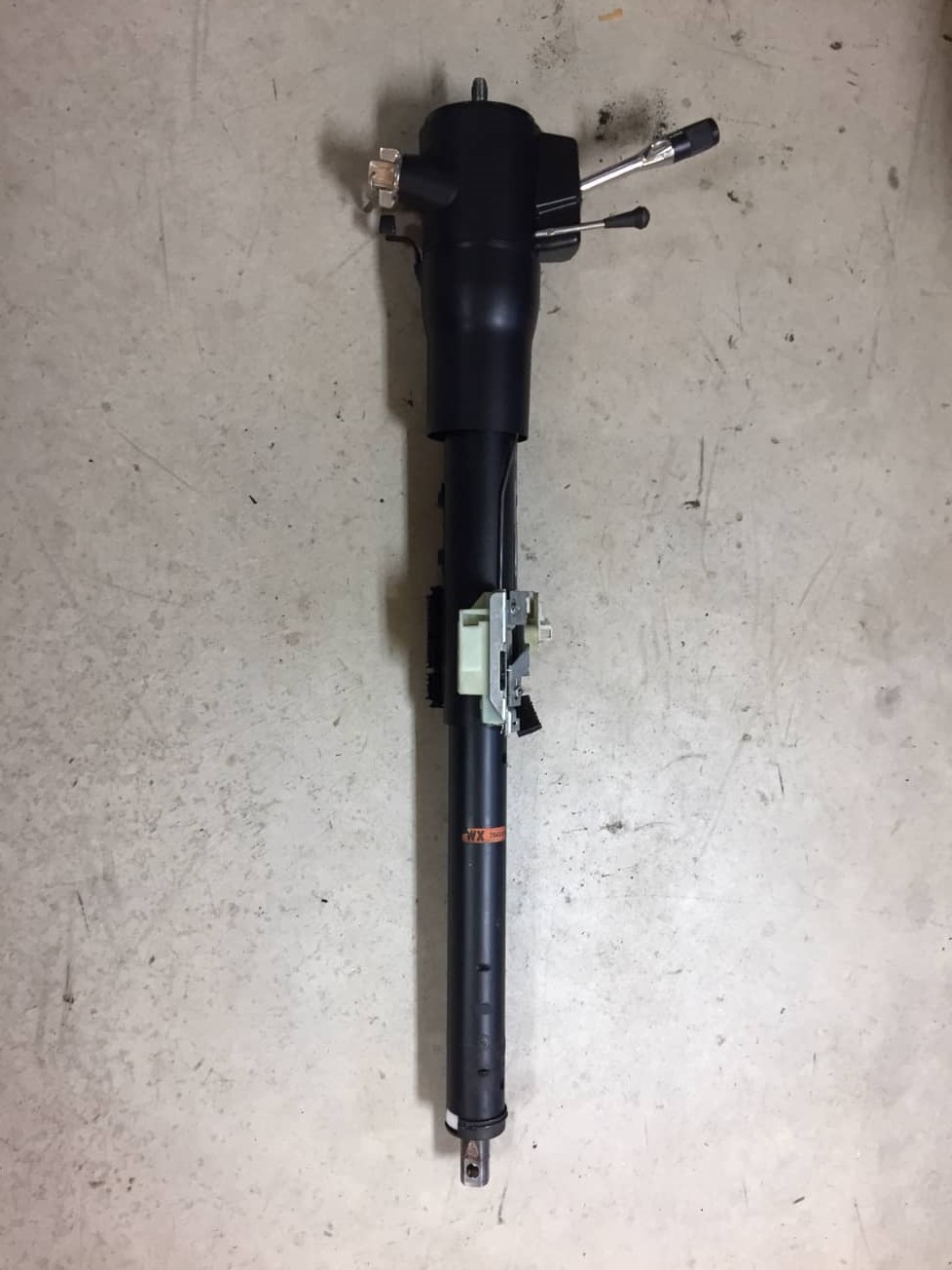 I just wanted you to know how pleased I am with the steering column you rebuilt for me. It's just like new. I also appreciate the fact that you took time to contact me by phone and make sure of what I was looking for and what repairs I needed. It's nice to know some people still take that kind of pride in helping their customers. I will definitely pass on your information to anyone that needs help with a steering column.

Thank you
Randy H., Elko Nevada
---
1971 Oldsmobile Delta 88 Repair
02/26/2020
Doug,
Just letting you know the parts have arrived this morning so THANK YOU HEAPS For your wonderful service.
We Will highly recommend you to our local hotrod ferternity.
Until next time – take care and best of health

Cheers
Ian T.
Whakatane New Zealand
---
1982 F250 Column Replacement
10/31/19
Doug,
Thanks so much for your quick, knowledgeable service! Great to find a business that still wants to take of customers instead of just taking the money and being done with them as quickly as possible. My first time with r & r steering column in this old truck and new one went in fine but knew you guys were there ready to help if needed!
Thanks again!

Russ E., Lakeside AZ
---
Ford Truck (Shift Stop)
07/29/19
Thank you so much for excellent customer service. This is the first time ordering through you all. I will definitely pass the word along that you all are the best in the business. I couldn't find that part anywhere, online,parts stores etc...
thanks again


Maxwell M., Maryville, TN
---
1973 Chevy C10 (in Sweden)
07/19/19
Hi Doug!
Now my C10 is upnrunning again thanks to your parts, I will gladly recommend you on the forums.
Top notch service!
Best regards

Thank You!

Sören A., Sweden
---
Cadillac Telescopic Repair
07/14/19
The download I got from you saved my butt today! THX
I'm a retired locksmith and was trying to find info to help my son fix his Cadillac steering column. This was perfect.
Thank You!

Jenine R, USA
---
1974 Cadillac Eldorado
07/03/19
Hi, I meant to thank you for your knowledgeable help & parts for my 74 Eldorado build. I couldn't have asked for more at my time of need , and "Youzzz" were there…In my neighborhood ,Youzzz are "TITz"! Such as it is…
Thank You very much
Sincerely

Jersey Mike
---
1980-91 ford F Series Pickup Truck
06/09/19
Doug, words can not express the gratitude I feel. Your steering column was everything you said it would be. Your company did exactly what you said in your advertisement. That is so refreshing today, and does not happen often. Keep up the good work!
Thanks

John S, Guymon, OK
---
1977 Corvette Wiper Switch
08/23/18
I bought a turn signal pivot piece for a 1977 Corvette a few weeks ago, and I just wanted to thank you for your help. Doug had the holes drilled perfect, and the piece worked perfect. Being in Belgium you guys are the only ones in the world that I could find with that piece. Again, thank you, and if I need steering column parts in the future I'll contact you guys first.
Thanks

Wade L, Belgium
---
Column Rebuild Questions (multiple vehicles)
07/13/18
I have called Doug twice for help with questions on two different vehicles that I have owned. I was in the car business for 25 years, 13 of those I owned my own dealership. Doug's expertise, knowledge, and willingness to help is unparalleled. He took his time with me, guided me through his website, and even though I potentially was not buying anything, which he knew, he ensured that all of my questions were answered and warned me of potential problems I might run into. I have never spoken with another individual that has the knowledge that he does on steering columns. On both occasions I ended up buying parts. Shipping is fast, and his customer service is unbeatable. If you have an issue with a steering column, I would not go anywhere else.
David

David F-J, Klamath Falls, OR
---
Column Rebuild 1988 Jeep YJ
10/30/2017
Doug, sorry it's taken me awhile to get back to y'all. Finally just got around to putting column back in jeep. Y'all did awesome job on it and wanted to once again thank you.
Ronnie

Ronnie C, Angelton, TX
---
Column Rebuild 1979 Jeep CJ5
10/15/2017
Received my column back in perfect condition.
I installed it the next day, and it works great.
Thanks so much for your great work!!!
Thank you again.

Stephen J, Willamantic, ME
---
Complete Ford Column Replacement (F- Series Pickup)
07/25/2017
Thank you, Thank you, so much. The paranoia was getting to me. I'm so afraid I'll have to tear the dash panels back apart to install some little obscure plastic part. I need this ol' truck to run for a while longer and I need it like right now. I sincerely appreciate your service and will continue to recommend your company. You are truly a rarity and was pleasantly surprised to find someone that services automotive steering components and provide after sales support. I needed your services.
Thank you again.

Byron L., Pasco, WA
---
Lock Plate, Pin, Cover (1971 Chevrolet Chevelle)
05/23/2017
I just want you folks to know how appreciative I am for knowing you have the parts I need and the wonderful service you have given me. I honestly didn't know where I was going to get all these hard to find parts and here you have them. Also, thank you for your prompt service and patience. I am truly thankful and I have been letting all my friends know about you and your services.
Take care,

Kevin C., Warren, MI
---
Ignition Rack Gear (1990 Ddodge D150)
04/24/2017
I completed the project and got everything back together. I am glad I found your web site because that made finding the right piece easy. If I ever need to do steering column work in the future I will contact you.
Thanks again!

Jeff
---
Ignition Problem (1986 Ford F-250)
04/19/2017
Doug,
Just a big thank you, I purchased the tear down inst for my vehicle, turned out to be a broken ignition cylinder, not accuator, I also installed a new TS switch. I did call Monday and appreciated the encouragement from Doug to keep at it, and info from him getting the gear correct, I thought ACC was not a movement of the gear. You are Great to do business with!
Vic
Again Thank you:-)

Vic P., Bend, OR
---
Steering Column Replacement (1995 Ford F-350 Crew Cab)
07/26/2016
Doug,
I wanted to say thank you for your absolute great service. I originally was going to have the local shop repair and replace the column however after finding Steering Column Services, reading their instructions, I decided to complete this on my own. The detailed instructions were spot on accurate. I ordered the rebuilt column overnight...and the installation went flawlessly. I personally missed labeling a connector, I called Doug, he had me an answer to my question within a minute. This is some of the best customer service I have ever seen in a company of any kind. I would recommend Steering Column Services to anyone in need. I wish more companies conducted business in this manner. Doug, you have a great business model and I am glad I found your company online. Thanks for the great service.

You do a top notch job.

Phil Y, Dallas OR
---
Steering Column Rebuilding Service
07/8/2015
Doug,
I installed the column last Friday and everything works great. You provide great customer service and a quality product. I would definitly recommend you and your company! Thank you so much for your help!

Bill
---
04/04/2015
Man Douglas you nailed it! I was able to fix it in about 2 seconds. Thank you very much!

Jason
---
89 Cadillac Brougham D\'Elegance - Dimmer Issue
03/21/2015
You guys are the best! Thanks to Doug for helping me out with my part and questions! Outstanding and knowledgable service! 5 Stars!

David F.
---
GM Non-tilt Column Repair - Tension Spring
01/04/2015
Hello,
I just wanted to thank you for the excellent service,sure would be nice if every online purchase I made was shipped out so quickly and hassle free. Thanks again,

Don B.
---
2000 Jeep Cherokee recovered theft - Rebuild steering column and replace housing
012/17/2014
Doug, you sir, have helped me through a difficult time. One never thinks this can happen to them - having their car stolen. You provided a great service to me on this, thank you, God bless you and wishing you and yours a wonderful and safe holiday.

Kevin S.
---
1980's GM Tilt - Rebuild for 1959 Bonneville Custom Column
05/08/2014
Just wanted to say thanks once again for all your time and effort you put into my column that you rebuilt for me.
Thanks for the super fast turn around time.
I have your site bookmarked in case I need parts or more work on any column in the future.
Thanks again,
R. King
---
1989 Chevrolet Corvette - Ignition Lock & Starting Problem
04/24/2014
Doug.... I just wanted to let you know the steering column is installed and working perfectly..I really appreciate all the help you gave me, both before, and during the repair....I returned to the GM dealership that installed the lock cylinder originally, showed them my receipt for the work you did, and they returned most of my money.. I will be posting my experience with your company on the Corvette Forum , letting them all know what a First Class bussiness you have, and anytime someone needs steering column repairs, or parts, your company will surely be mentioned

Thanks, Wayne
---
1989 Chevrolet Silverado - Tilt Won't Lock
12-5-2013
Wow....totally impressed with this site. So very impressed with this site, how quickly was responded to. Going to try the advice given. Have marked this site as a favorite and will definitely use again. Thank you very much!!!

Deb
---
2001 Buick LeSabre - Tilt Stuck Up
9-24-2013
Douglas. Fantastic.......... Thank you very much. I had visions of $$$$$$'s going out the window. Thanks again.

Trevor Williams
---
1986 Ford F-150 - Ignition Actuator
8-11-2013
This expert was very helpful and polite. Im not sure he knew I am a girl but he explained things thoroughly to me. I was able to understand everything he talked about very easily. He is totally knowledgeable.

Delynn
---
1991 Olds Cutlass Supreme - Broken Tilt Housing
3-6-2013
Never have I been helped with a problem and solution soooo quickly. I can never thank you enough. My mechanic will be on the project in a day or two. Thanks!!

Garnett
---
2006 GMC Sierra - Broken Tilt Lever
2-27-2013
Doug not only answered my questions but sent diagrams and a site to be able to order the part. It was great. It is a great end to a frustrating error on my part. (Breaking the lever) Thank you Doug. It was much appreciated!

Stephen
---
2003 Chevrolet Trailblazer - No Start
1-6-2013
Doug- Tks for your responses to my problem, it must have been that flat spot on the armature because I had put in the new one and she had fired right up. It will save me time and $$$$$ down the road if I ever did get stuck with that flat spot. Tks again and I will not hesitate to use your services in the future.(Hopefully I wont have to) I vote for DOUGLAS GAN for VOLUNTEER OF THE MONTH Tks Doug

Gerry
---
1-2-2013
Thank you all for your replies, it's much appreciated. Everyone loves experts like you who provide awesome solutions to everyday problems. Keep it up!

Miss K
---
1-1-2013
Thank you very much! fixya.com was genius for having guys like you on here. i really appreciate all your help. Hope your New Year is a very prosperous one. Thank you very much for all your help it has been a pleasure chatting with you. Take care.

Lee Harker
---
Unknown Vehicle Repair
6-15-2012
...but I was at my last nerve. Your steering column guide totally helped me figure out the bearing issue I was having. Thanks so much for delivering a great guide. I'll totally come back.

Matt
---
Ford F-150 Ignition Problem
11-26-2011
I emailed you sometime ago about my steering column in my Ford F-150. You nailed the problem right on the head! The starting problem was the actuator cam and the piece and tool plus the intructions were absolutely perfect! The job took me about 2 hours then I was cruisin' down the road! EXCELLENT DIAGNOSTICS AND SERVICE! Please post this in testimonials/feedback.

Thank you for saving me ALOT of money,
Chris P.
---
1998 Ford Expedition Shift Tube Replacement
06-28-2011
I used your instructions for removing and installing a shift tube assembly in my 1998 Ford Expedition today and they were a huge help. There were a few minor inconsistencies due to the instructions being based on a ford pickup (f150 or 250) but still good enough to figure out the location of certain parts/screws. Without the instructions I would have had to stop halfway through and visit a mechanic whom would probably charge an arm and a leg for what only cost me 8 dollars and some change for what proved to be an INVALUABLE guide/tutorial. Thanks
Kyle Y.
Langhorn, PA
---
2000 Chevrolet Silverado Ignition Switch Installation
05-01-2011
Thanks for the quick reply! You are absolutely right - I didn't push the gear on top of the switch hard enough (didn't want to break it), but felt the spring after all. I installed the new switch and it works great! I've been researching this for a week, and am amazed that everyone acted like it was the first time they heard of it! Wish I'd have found your page sooner!! Thanks again.
Tony
---
1992 Chevrolet Caprice Actuator Rod
04-21-2011
The plunger on the used column was bad as you suggested, once that was replaced, everything works fine now. Thanks for the help.
Roy
---
2003 Dodge P/U Truck Actuator Shaft Assembly
03-19-2011
I just wanted to say thank you! I really appreciate the help. I got the part installed yesterday and the truck is running now. Thanks for selling me the piece I needed and not the whole steering column, I felt like I was in a position to be taken advantage of and you did the opposite gave me a very fair deal!!!  Its reassuring to know we still have good guys in America. Thanks
J. Kyle M.
---
1989 Silverado Lock Plate Problem
02-23-2011
Dude, you hit it right on the nose! Thanks for your help, you really know your stuff! Now I know where to go if i ever need help! Thanks again!!
James
---
1994 Chevrolet Silverado Column Overhaul
01-20-2011
You are my new best friend and I thank you very very much.
Corey
---
GM Non tilt Column Repair
01-10-2011
Thanks Doug for your help in solving my problem you guys are great thanks again.
Tim
---
2000 Chevrolet Malibu Tilt
12-23-2010
I would like to thank Douglas for taking his time to answer my questions while I was in a tight spot. While I am familiar with vehicles and working on them, I've never worked around a steer column before and there were hidden surprises to be found. His answer was concise and accurate and helped me to get my mistake fixed quickly and correctly. I am very thankful for his help!
Donovan
---
PT Cruiser Broken Ignition Actuator
12-03-2010
Thank you for the excellent service you provide.  We thought we found the part we needed on Saturday via a Google search.  I called Monday and spoke Doug.  He  confirmed the part was correct, took the order and shipped it overnight.  When he determined I called too late for a Tuesday delivery - he called me back to update me.  Wednesday morning the part was delivered across the country as promised.  Terrific service!  Thanks.
John J. Benoit
California
---
2000 Jeep Wrangler Ignition Problem
11-23-2010
I super big thank you from Texas.......I ordered an actuator shaft (HSG04s) on Tuesday, November 23rd and really needed to get my 2000 Jeep Wrangler TJ going by Monday. The part arrived on Friday, November 26th in the mail and within just a few minutes my Jeep was up and running again. Your service over the phone was immaculate and I am 100% satisfied with the experience with your company. Thanks again for expediting my order and if I ever need another part that you guys carry, I will not hesitate to call you first.........
Sean Bellah
Fort Worth, Texas
---
1973 Chevrolet Lumina Broken Rack Gear
11-02-2010
I was faced with a '93 Lumina, rack broken, no source of parts and a major downtime issue. I emailed Stolen and Recovered, received a call almost as soon as I hit "send" and had the part waiting for me when I got home from travelling that weekend. Amazing. And I got very useful advice on how to avoid springs and flying torx screws as well.
This company is definitely one-of-a kind.
Thanks!
Tom Dolembo
---
1980 Chevrolet Corvette (Telescopic Jigsaw Puzzle)
10-19-2010
The speed at which these guys reply to a question is unbelievable. This type of service is not existant anywhere else in the world . I e,mailed a picture and it was recognised and its position confirmed. I need ask no one else except these guys for any type of assistance with my vette.
Brilliant is a word that falls well short in my description of this service. great stuff,
Regards,
John K.
South Africa
---
1993 Ford F-150 Shifter
10-11-2010
Your site was the first one I clicked on. Terrific info and pics. I was able to complete the task of replacing the shift tube and shaft on my 1993 F-150 in about 30 minutes.
You guys rock!
Mitch G
---
1996 Ford Thunderbird Brioken Ignition
10-06-2010
This Guy knows what he's doing! He was nice, fast and efficient. Two thumbs up!
Adam
---
1978 Camaro Column & Horn Issue
09-06-2010
What a pleasure it is to deal with you and your company, particularly given your focus to excellent customer service. It has been some time since I have experienced such excellent service and assistance, it certainly shines thru. I am sure your business will continue to be successful, and I will certainly spread the word here where ever possible for those requiring those type of parts
Greg C.
(Core Engineer- Austrailia)
---
Dodge Column Problem
08-23-2010
I wanted to say thank you for having a great website and something available for people in need for ignition parts.  I truly appreciate you having these parts available and with great detail and photos I think "I" could have even took it apart.  Great job!  I called a couple of local Dodge dealerships to let them know about your website for their customers in need.
Jill R
---
1977 GMC Non Tilt Sector Gear
07-20-2010
If all the internet were so competent...what a truly remarkable accurate and timely response. Mr. Douglas Gan my sincere thanks for a job very well done.
Glenn
---
Street Rod w/ GM Tilt Column
07-07-2010
Thanks for the e-mail and information.  With the help of your instructional videos, I was able complete the steering column in the 34 Ford street rod and everything is working great.  You provide a valuable and needed service to the consumer, I am surprised that there isn't a company like yours in Colorado.  Your web site is fantastic and contains a lot of helpful information about steering columns, glad I found it.
Thanks Again,
Larry
---
1987 Chevrolet Camaro Broken Ignition
05-28-2010
ABSOLUTELY! For Volunteer of the year! Beautiful! All-inclusive answer, focused precisely on the problem.Confirmed ALL the little things... Perfect Logic:The Actual Reason for The Car Not Starting(50% of the headaches aches) and the picture of the actual problem part blew my mind.Quite startled to find THIS EXPERT had hit the nail soooo dead-on! I'm extending my Thank Yous now and will stay in touch. Thanx again and u sure did hit it bang-on. I'll be sure to let u know how things worked out...don't forget,I have more work to do.
Thanks Again,
Ed B
Follow-up for another vehicle
07-10-2010
Thanks again, Doug. As in the past, you have addressed my problem(s)directly and to the point. I value your opinion and appreciate being told the straight goods, whether I want to hear it or not...lol. My Camaro thanks you, too. If the need arises, I will be doing business w/you in the future. A great site, I might add.
Thx,
Ed B.
---
1989 Ford E-350 Broken Internal Column Parts
04-17-2010
Your website where you freely share information, pictures and your expertise saved me hundreds and showed me how stupid or crooked my "ex" mechanic was. I regret that I live in California and couldn't use your service. My "ex" mechanic said I needed a total replacement of the steering column and with your information I fixed it myself with a $18 dollar part from Vista Ford. Please add this to your testimonials. If I didn't have to have the truck running right away I would have ordered the part from you.
John Stevens
Topanga, Ca.
---
1994 Ford F-250 Broken Shifter
03-03-2010
I wanted to thank you for getting these parts out so quickly. I only get home on the weekend and having the parts there Friday evening was a life saver. The instructions you posted on your website made the job go fairly easy. I especially appreciate the note about disconnecting the indicator string because I know I would have missed that and snapped it off for sure. It is rare to find companies and people that provide good service these days you definitely have for me.
Thank you
Mike Hickey
---
2002 Dodge Neon Upper Bearing Replacement
02-28-2010
Doug, you are the man. I want to thank you for all your help in trying to figure out what is wrong with my column. That is a great hands on article on how to take it apart and rebuild. It is my top bearing it was all but froze up. I couldn't really turn it by my finger it was rough. Thanks again for your help. I will recommend you to my friends
Thank you
Chuck W
---
1989 Chevrolet Conversion Van Shifter Bowl
02-27-2010
Just to say thanks for the great service and I am looking forward to doing more business with you in the future.
Thank you
Leo K
---
1991 Chevrolet Scottsdale Column Rebuild Questions
02-02-2010
You're awesome. Thanks a million and for getting back to me so soon. I went out and had another look at it before I got your email. I took the pivot pins out again and took the rack out and got a good look at it and the spring and figured in fit inside that rack gear at the bottom so that's where I stuck it. Kind of figured it helps keep the truck from keeping the starter engaged when starting. I got it all back together now and it's working like a charm. I wouldn't have attempted it without your videos or I might have but it might of ended not being a happy experience for me or the truck. I can't believe chevy doesn't use locktite on those screws that hold that plate down.
Thanks again Doug!!!
Charlie P
---
1991 Ford E-150 Broken Ignition
11-09-2009
I would like to express my heartfelt thanks to you and your company for your excellent in-depth knowledge of the steering column that pinpointed my problem immediately. Your analysis and exact easy to follow instructions to resolve the problem far surpassed the information we could get from the official "shop manual" and All Data combined. I only wish I had contacted your company first before spending hours removing and disassembling the steering column without any idea of what was causing the problem. The fact that you were willing to share your expertise with someone that was having a problem speaks volumes of your commitment to the automotive service industry. I would recommend your company to anyone having steering column problems.
Thanks again
Al Tanner
---
1994 Chevrolet Theft Attempt
10-15-2009
Doug is remarkable! Before you know it, his response follows the receipt, and its always a thoughtful response. Thumbs-Up to Doug!
Greg
---
1998 Jeep Broken Ignition Actuator
10-09-2009
I have a 98 Jeep TJ Wrangler. Back in June of this year you gave advice on a similar problem to a gentleman with a Sebring. One to the metal pins/rods connected to the part broke off. Both prongs are needed in order to rotate electrical portion of the ignition switch and engage the starter. You stated you had stock and directed him to your website.
Bruce
---
2001 Pontiac Sunfire Lock Cylinder
10-07-2009
Very knowledgable, the whole job cost 271 dollars with tax and everything yall even explained things that my mechanic told me later after I received your response which tells me I got a good mechanic who didn't try to take advantage of a bad situation
Wayne
---
1998 Chevrolet 1500 Broken Clockspring
10-01-2009
Thank you very much. This is the first and certainly not the last time I'll use this fantastic web site! AllExperts has saved me a ton of time and grief. Thank you once again.
Todd Cook
---
1991 Chevrolet S-10 Wiper / Signal Switches
09-28-2009
Do you know how long, I was looking for someone on line, who knew this answer, lets just say you had what i was looking for !!you where GREAT with the response also. Thanks so much Now wish me luck . Thanks again for doing this for free You need any metal work or roofing advice send an email.
Chuck
Click "Order it Now" to view shipping options, pricing & speeds BEFORE you pay

Not Finding What You're Looking For?     CALL US at 435-319-6011   ---   We like to help!

Back to Top