Crane & Tractor Steering Column Rebuilding
Steiger Tractors, Link-Belt Cranes, Case Tractors & Versatile Tractors
Steering Column Rebuilding Services
We now offer rebuilding services for HEAVY EQUIPMENT including Link-Belt Crane, Case-Steiger and Versatile Tractors. Many of these use the Saginaw (GM) built tilt-telescopic steering column design in the cab. Often, with 'Autosteer' or simply because of the height of the cab, these columns become loose or break the main tube. We can help you! We service loose, broken and severely damaged columns offering rebuilding services including welding as needed.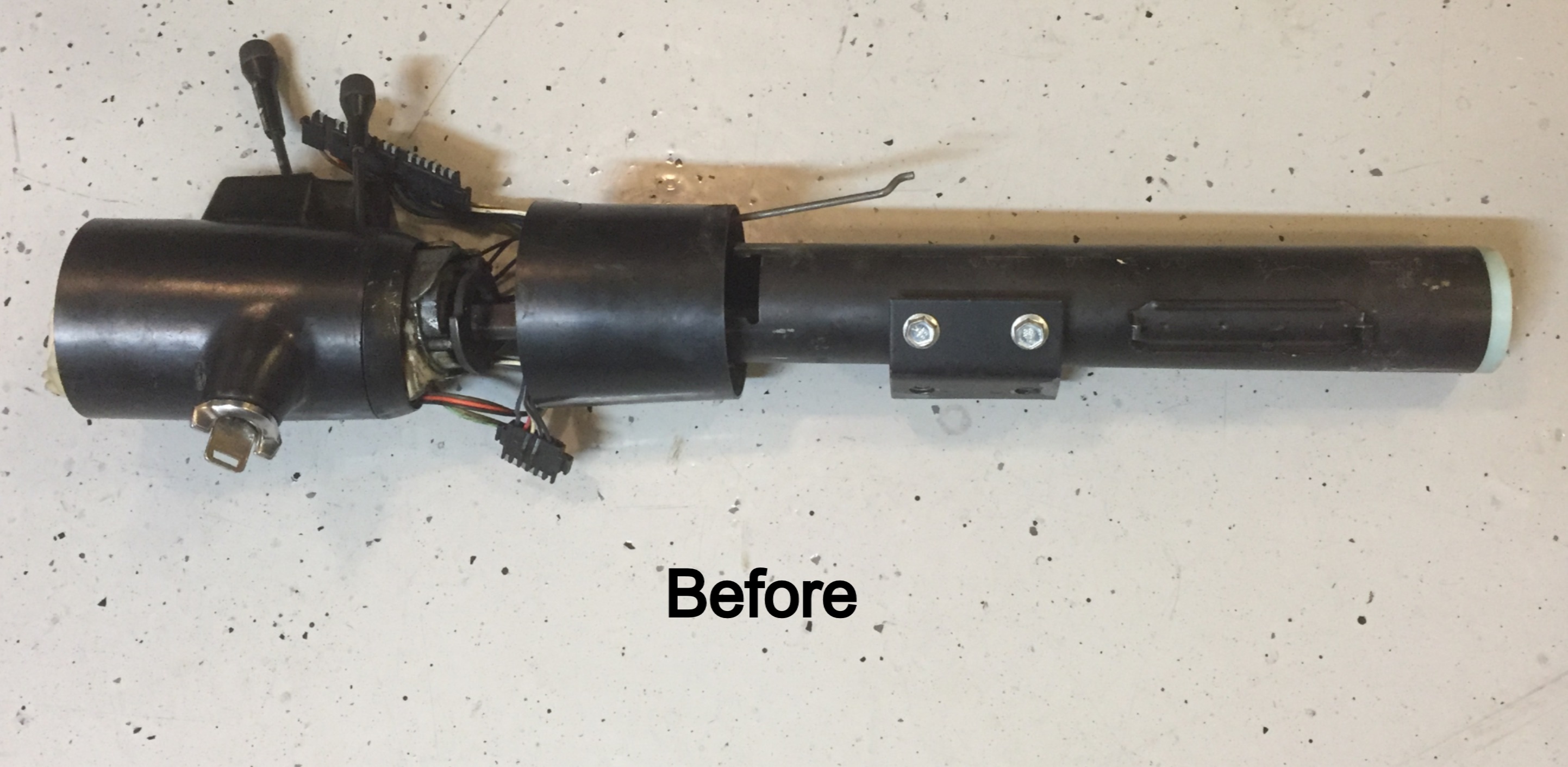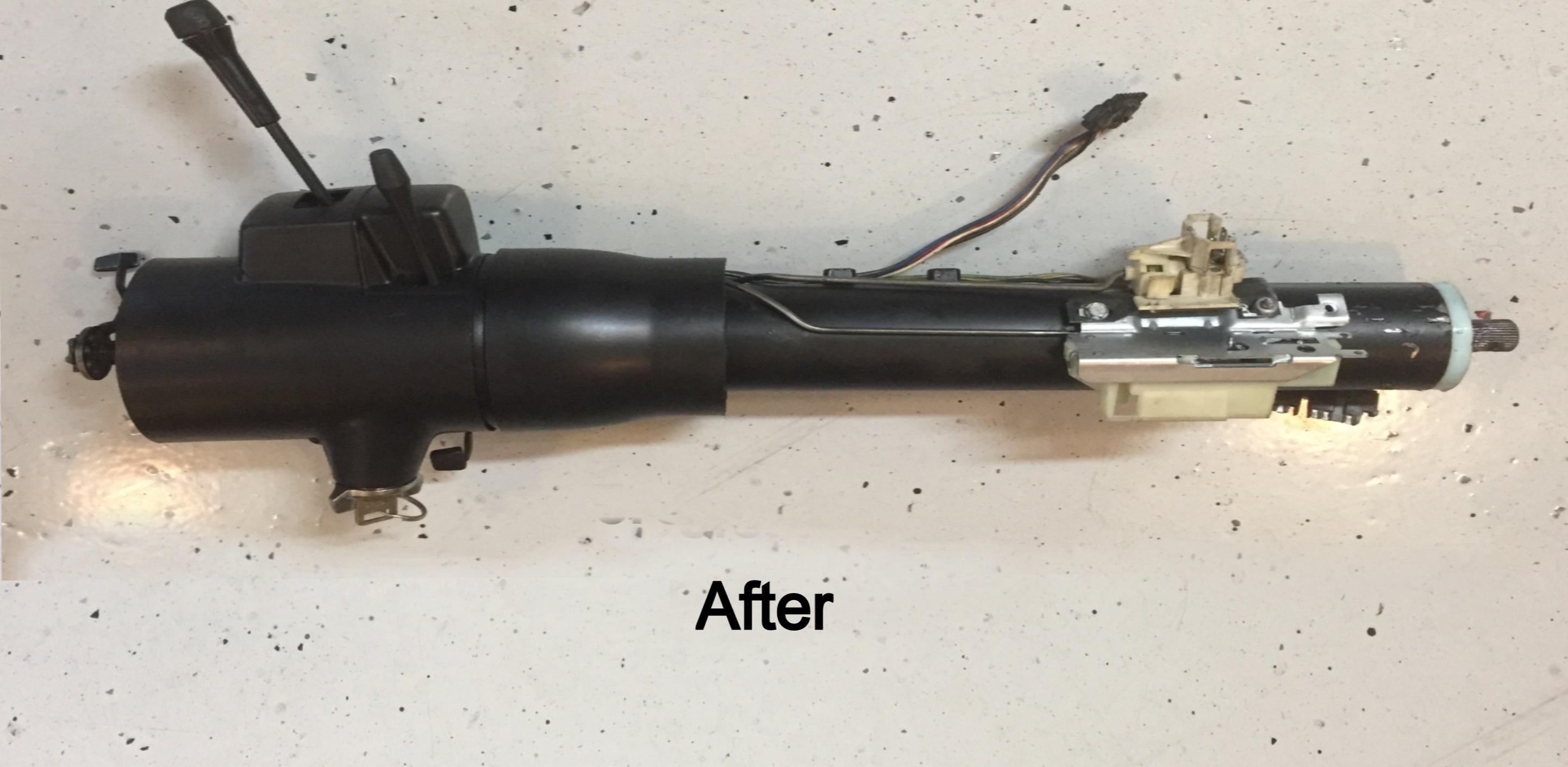 GM built these columns specifically for heavy industial or agricultural use. Although they are similar to the cars that used tilt-telescopic steering columns, there are some unique components used in each of these heavy vehicle columns that make them different. We stock many of these hard-to-find parts that may be needed when it comes time to service your column. Our professionals will disassemble, inspect, clean and rebuild your existing column, replacing only what is damaged or necessary.
We understand that down time on these vehicles is critical to your company revenue. We will do our very best to get you back up and running again ASAP. If you do not know whether your column is Saginaw built, email us with a picture and we can help you.

If you have questions, or WHEN YOU ARE READY TO SEND US YOUR COLUMN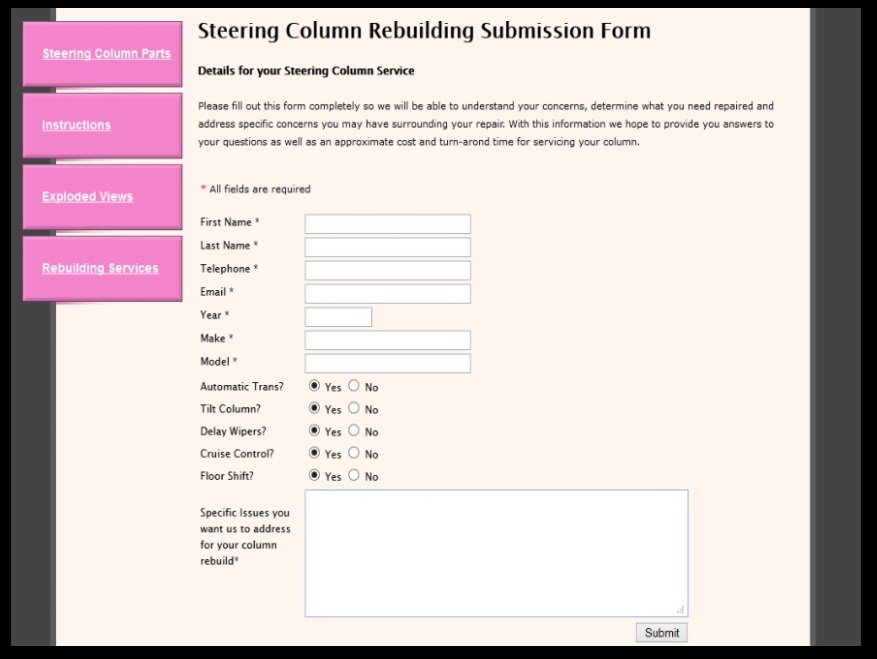 Fill out and submit this form--
Column Rebuilding Form
This form is designed to address your specific steering column rebuilding questions and details. Our rebuilding center will review this form and respond to any questions you may have. We will retain your information until your column arrives for inspection amd servicing.

Feel free to call us to discuss your design and damage BEFORE sending us your column.

Our fee schedule is as follows:
Crane / Ag Equip Tilt-Tele Designs - $325.00 plus parts
(we offer 'spray can quality' Satin Black refinishing / painting if desired at no charge)

All prices quoted are for labor only. Parts and return shipping charges are additional.
(shipping in the US is typically @ $45.00-$65.00 without the steering wheel)
We will disassemble your column, identify the parts needed to rebuild it properly and supply you with a written or phone estimate. Once we are authorized to repair it, we will rebuild your column and ship it back to you. Our typical turn-around time is 4-5 business days.


---
SHIPPING YOUR COLUMN
If you decide to use our rebuilding service, please send the following:

Steering column (without the steering wheel)

All loose parts available

Ignition key

Contact Information

Return shipping address



We DO NOT NEED the steering wheel. You may include your turn signal and/or tilt levers if you want us to inspect them for wear and condition.
When shipping your column, we recommend that you DOUBLE BOX OR PAD THE COLUMN HEAVILY. We often return the column in the same shipping boxes provided. All too often, the carrier (UPS, FedEx, or USPS) damages the column during shipping. Steering columns are especially susceptible to being damaged from being dropped. Anything that can 'break off' or 'stick through' the box will most likely get broken and will cost you more money in the end.
PLEASE ENSURE A SAFE DELIVERY. Protect your column by packing it carefully.

With all that said, we recommend FedEx Ground as the shipper and we typically use a box 8 x 8 x 36 to ship most columns with the levers removed.

Steering Column Services is not responsible for damage or missing parts caused during shipping as a result of inadequate packaging.

Ship your column, key, parts and information to:
Steering Column Services
160B Calle Del Oaks
Del Rey Oaks, CA 93940
---
Steering columns or parts left with us for over 30 days will be disposed of and will not be available to reclaim (no additional charge to the customer).
If you have any questions, please either call us (435-319-6011) or submit them through our Contact Page
Click "Order it Now" to view shipping options, pricing & speeds BEFORE you pay

Not Finding What You're Looking For?     CALL US at 435-319-6011   ---   We like to help!

Back to Top