Multifunction Switch Replacement Instructions
(1995 & newer with Split Cover)
These instructional pages give you step-by-step instructions for the removal and replacement of the multifunction switch located in columns with split cover designs (not the round style). These switches fail regularly. Often the switch will fail causing one or more of the electrical circuits to lose power (turn signals, wipers, 4 ways, horn, cruise). These instructions will show you how to gain access and remove the switch and harness from the column and dash.
Estimated Time Required:
1.0 - 1.5 hrs.
Tools Needed:
7mm socket, ratchet, short extension, 10mm socket, 20 torx driver, wire cutting pliers, #4 inverted torx socket, steering wheel puller, small probe, #2 inverted torx socket, flat blade screwdriver.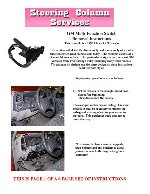 Our Part # GMMulti Instructions
Fits Makes: GM, Buick, Cadillac, Chevrolet, GMC, Oldsmobile, Pontiac
Fits Years: 1995-up
$8.95
For parts orders, click "Order it Now" to view shipping options, pricing & speeds BEFORE you pay
Back to Top