Key Release Repair Instructions (1995-2006)
This instructional set shows you exactly how and where to bypass the key release mechanism on GM vehicles that use a split cover design. This problem often occurs on many GM vehicles with floor shifters. The problem is the key will not rotate back into the "Lock" position allowing the removal of the key. This is often diagnosed as a bad lock cylinder. Sometimes it is, but most often it is not. On some vehicles, the power circuits remain engaged, potentially draining the battery. These instructions will detail the disassembly of the upper steering column and the removal of the release solenoid. This repair will allow the key to release in ANY shift position.
Estimated Time Required:
30 mins.
Tools Needed:
20 torx driver, #4 inverted torx socket, small probe, #2 inverted torx socket, flat blade screwdriver.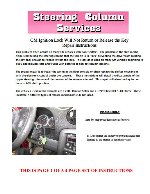 Our Part # KeyRelease Instructions
Fits Makes: GM, Buick, Chevrolet, Cadillac, GMC, Oldsmobile, Pontiac, Jeep
Fits Years: 1995-2006
$8.95
For parts orders, click "Order it Now" to view shipping options, pricing & speeds BEFORE you pay
Back to Top