Ignition Lock Coding Instructions
(1995-newer)
These 2 instructional pages give you step-by-step instructions for building a lock to fit an existing GM key for vehicles beginning in 1995. These instructions are applicable for both in-dash and in-column lock cylinder designs. It is often necessary to recreate the original lock in order to maintain convenience or to accomodate a Pass-Key system. These instructions will show you how to read a key, install the wafers (tumblers) and check your lock for accuracy.
Estimated Time Required:
10 min.
Tools Needed:
Small Flat Screwdriver, Small Pointed Probe (dental pick)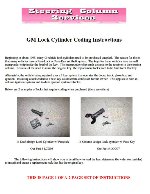 Our Part # Codei Instructions
Fits Makes: GM, Buick, Cadillac, Chevrolet, GMC, Oldsmobile, Pontiac
Fits Years: 1995-newer
$6.95
For parts orders, click "Order it Now" to view shipping options, pricing & speeds BEFORE you pay
Back to Top