Loose Tilt Column Rebuild Instructions (1969-1999)
PDF Download
This 51 step, 19 page set of instructions is broken into 4 sets. It takes you step-by-step through the process of repairing a loose tilt steering column on a GM Saginaw style column. The steps include the removal of the steering wheel, lock plate, turn signal switch, lock cylinder, upper lock cover, tilt housing, dimmer cap and actuator and detailed reassembly. They will guide through the proper procedure for tightening the correct 4 bolts that secure the tilt mechanism to the column tube.
Note: Telescopic step-by-step instruction are NOT covered in this set. Please refer back to
Telescopic Instructions.
Estimated Time Required:
1.75 - 2.0 hrs.
Tools Needed:
Snap ring pliers, 13/16 socket & ratchet, steering wheel puller, lock plate spring compressor, 2 flate blade screwdrivers, pick or probe, phillips screwdriver, 7mm socket, ratchet, short extension, needle nose pliers, 20 torx driver, 30 torx driver, pivot pin puller, hammer, 3/16" punch, #8 inverted torx socket, long extension.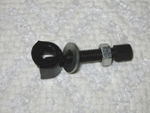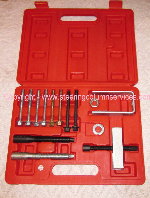 These special tools
are needed to complete this job
Our Part # Loose Tilt (4 part set)
Fits Makes: GM, Buick, Cadillac, Chevrolet, GMC, Oldsmobile, Pontiac
Fits Years: 1969-1999
$19.95
Click "Order it Now" to view shipping options, pricing & speeds BEFORE you pay

Not Finding What You're Looking For?     CALL US at 435-319-6011   ---   We like to help!

Back to Top