Ford Upper Housing & Bearing Replacement Instructions
Ford, Lincoln, Mercury Cars and Trucks 1992-2008
This 14 page set of instructions gives you step-by-step pictorial and written instructions for replacing the upper housing, steering shaft and bearings on most Ford, Lincoln and Mercury cars and trucks with both tilt and non-tilt steering columns from 1993 to 2008. This design is used on a variety of cars and trucks. When the steering wheel becomes extremely loose, these parts require replacement. For a complete rebuild kit, click here.
Estimated Time Required:
1.5 - 2.5 hrs.
Tools Needed:
10mm Socket, Ratchet, Short Extemsion, 50 Torx Socket, Phillips Screwdriver, Steering Wheel Puller, 5/16" Socket, Small Probe, 20 Torx Driver, Right Angle Pick, Large Flat Blade Screwdriver, Snap Ring Pliers, 5/32" socket, 13mm & 15mm Socket, 8" Extension, 30 Torx Socket, Flat File, Deep Socket (or PVC Pipe).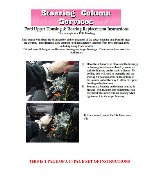 Our Part # Hsg20i Instructions
Fits Makes: Ford Lincoln, Mercury
Fits Years: 1992-2008
$21.95
For parts orders, click "Order it Now" to view shipping options, pricing & speeds BEFORE you pay
Back to Top