Ford Shift Tube Replacement Instructions
(Ford 1992-2008)
These pages give you step-by-step pictorial and written instructions for replacing a broken shift tube and/or shift plunger on most Ford, Lincoln and Mercury column shift automatic vehicles from 1993 to 2008. This design is used on a variety of cars and trucks. When the shifter becomes extremely loose or snaps leaving the drive unable to shift, these parts require replacement.
Estimated Time Required:
1.5 - 2.0 hrs.
Tools Needed:
10mm Socket, Phillips Screwdriver, Small Probe, 5/32" socket, 5/16" Socket, 20 Torx Driver, 13mm & 15mm Socket, 8" Extension, 30 Torx Socket, Large Flat Blade Screwdriver, Small Ball Peen Hammer, 1/8" Punch.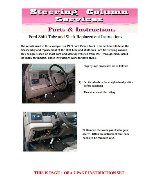 Our Part # F220i Instructions
Fits Makes: Ford Lincoln, Mercury
Fits Years: 1992-2008
$18.95
Click "Order it Now" to view shipping options, pricing & speeds BEFORE you pay

Not Finding What You're Looking For?     CALL US at 435-319-6011   ---   We like to help!

Back to Top