Ford Upper and Lower Rack Actuator Gear Replacement Instructions
Ford, Lincoln, Mercury Cars and Trucks 1992-2008
This 13 page, 40 step set of instructions gives you step-by-step pictorial and written instructions for replacing the upper and lower rack actuators located inside the upper housing on most Ford, Lincoln and Mercury cars and trucks with both tilt and non-tilt steering columns from 1992 to 2008. This design is used on a variety of cars and trucks. When these gears break, typically it leaves the key turning freely and disconnected from the ignition switch. These instructions show you how to access and replace these parts. This set of instructions begins AFTER the columnn is reomoved from the car. Parts for this repair are available by clicking here.
Estimated Time Required:
1.0 - 1.5 hrs.
Tools Needed:
30 torx driver, large flatblade screwdriver, right angle pick, needlenose pliers, snap ring lpiers, small flatblade screwdriver, small punch, hammer, 7/8 deep socket, 3/8 x 2" bolt, (or PVC Pipe).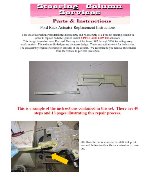 Our Part # Rack06i Instructions
Fits Makes: Ford Lincoln, Mercury
Fits Years: 1992-2008
$24.95
For parts orders, click "Order it Now" to view shipping options, pricing & speeds BEFORE you pay
Back to Top