Ford Ignition Rack Actuator Replacement Instructions
(Ford 1980s-1991 -Tilt Design ONLY)
This 10 page set of instructional pages give you step-by-step instructions for the replacement of a broken ignition actuator or rack gear. This piece often breaks leaving the ignition switch inoperable. Often mistaken for a bad ignition switch, this cast metal actuator snaps creating a freely spinning key.
Estimated Time Required:
1.5 - 2.0 hrs.
Tools Needed:
1/2" Wrench, 7/8" socket, Ratchet, Phillips Screwdriver, Steering Wheel Puller, 1/4" Open End Wrench, Small Probe, Small Ball Peen Hammer, 1/8" Punch, Snap Ring Pliers, Large Flat Blade Screwdriver, Pivot Pin Puller, Angle Cutting Pliers, Pliers,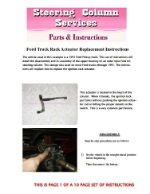 Our Part # Rack04i Instructions
Fits Makes: Ford, Lincoln, Mercury
Fits Years: 1980-1991
$18.95
For parts orders, click "Order it Now" to view shipping options, pricing & speeds BEFORE you pay
Back to Top