Ford Ignition Lock Alignment Instructions
(Ford 1980-1991)
These 2 instructional pages give you step-by-step instructions for the proper alignment of the internal gears inside the lock housing and behind the ignition lock cylinder. Proper alignment is required to assure correct key positions and a fully functioning ignition switch on all Ford, Lincoln & Mercury vehicles from 1980 through 1991.
Estimated Time Required:
10 min.
Tools Needed:
Small Flat Screwdriver, Snap ring pliers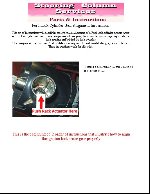 Our Part # Align Instructions
Fits Makes: Ford Lincoln, Mercury
Fits Years: 1980-1992
$8.95
For parts orders, click "Order it Now" to view shipping options, pricing & speeds BEFORE you pay
Back to Top