Tilt / Bearing Housing Set (New Old Stock -NOS)
Our Part # Hsg03N-Set
OEM Part # 26017735, 26017468, 26010644, 26010580, 7849032, 26016589
Fits Makes: GM, Chevrolet Corvette, Impala SS & Camaro, Pontiac Firebird
Fits Years: 1989-2002 (selected models)
(1986 Corvette Convertible)
$672.85 -- (Special price for set)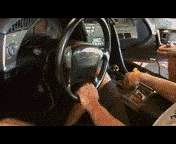 Tilt housing assembly for Corvette, Impala SS, Firebird and Camaro. Typically these parts wear (at the pivot pins) causing excessive play in the steering column when leaned on. This design bolts directly to the tube rather than to a removable plate securing the tilt mechanism. Tilt housing is sold together with the aluminum mounting suppport with new pins as a set for a discounted price. Each piece is available individually, but replacing one or the other will usually not cure a loose tilt mechanism completely.
The tilt housing is BRAND NEW OLD STOCK , directly from GM (not used, salvage or reconditioned). The support stand is a brand new reproduction piece. All the New Old Stock for the support portion is gone, but these remanufactured pieces will fit perfectly. We guarantee this will cure the looseness 100%. (NOS- New Old Stock)

Note: There is a $75.00 additional core charge for this set. This fee will be credited back to you upon receipt of your old parts.
For parts orders, click "Order it Now" to view shipping choices & speeds
Back to Top