Steering Column Rebuilding
We are proud to offer rebuilding services for your column if you decide the task is too large for you to handle. Our professionals will disassemble, inspect, clean and reassemble your existing column, replacing only what is damaged or necessary.

We service GM, Ford, Mopar (Dodge, Chrysler Plymouth) and Jeep columns from approximately 1969 to 2000. The column designs we service have the IGNITION KEY IN THE COLUMN. We do not service older designs (with the key in the dash) as they require different parts which we most likely do not have.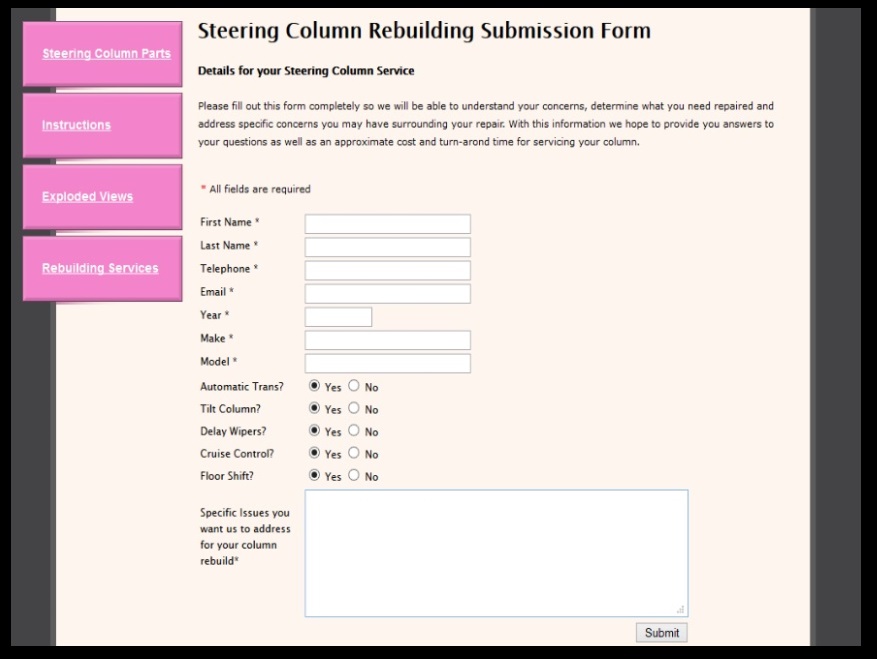 Column Rebuilding Form
Fill out and submit to send us your column
.
This form is designed to address your specific steering column rebuilding questions and details. Our rebuilding center will review this form and respond to any questions you may have. We will retain your information until your column arrives for inspection amd servicing.
Feel free to call us to discuss your design and damage BEFORE sending us your column.
Our fee schedule is as follows:
Non-tilt Design Columns - $145.00 plus parts
Tilt Design Columns - $175.00 plus parts
Tilt w/ Telescope Designs - $195.00 plus parts
(we do not offer refinishing (painting)

All prices quoted are for labor only. Parts and return shipping charges are additional.
(shipping in the US is typically @ $35.00-$45.00 without the steering wheel)
We will disassemble your column, identify the parts needed to rebuild it properly and supply you with a written or phone estimate. Once we are authorized to repair it, we will rebuild your column and ship it back to you. Our typical turn-around time is 3-4 business days).
If you decide to use our rebuilding service, please send the following:

Steering column (without the steering wheel)

Shift lever (removed for ease of shipping)
All loose parts available

Ignition key

Contact Information

Return shipping address

When shipping a column, we recommend that you DOUBLE BOX and PAD THE ENDS the column. We will return the column in the same shipping boxes provided. All too often, the carrier (UPS, FedEx, or USPS) damages the column during shipping. Steering columns are especially susceptible to being collapsed from being dropped on the end. This will permanently damage the column and render any repairs we have made useless.
PLEASE ENSURE A SAFE DELIVERY. Protect your column by packing it carefully.

Steering Column Services is not responsible for damage or missing parts caused during shipping as a result of inadequate packaging.

Ship your column, key, parts and information to:

Steering Column Services
889 Molinaro Ct.
Ivins, UT 84738

Need to remove your column?
Here we provide Free Steering Column Removal Instructions

Download complete steering column removal instructions here (1980-1991 Ford)
Download complete steering column removal instructions here (1992-2007 Ford)

Steering columns or parts left with us for over 30 days will be disposed of and will not be available to reclaim (no additional charge to the customer).
If you have any questions, please either call us (435-319-6011) or submit them through our Contact Page
For parts orders, click "Order it Now" to view shipping choices & speeds
Back to Top